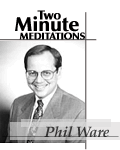 To Do
- Email to a Friend
- Discuss
- Printer Version

I am an enthusiastic sports fan. Sometimes, too enthusiastic. This is especially true when I watch kids sports. When I should be on my best behavior, I find myself repeatedly moving toward "berserkness" over the officiating.

I try all the reasoned approaches I know to settle myself down:
"You need to be a good example of sportsmanship to the kids."
"Don't embarrass yourself or your children."
"It's only a game."
"It's not whether you win or lose, but how you play the game."
"Their life doesn't depend on it."
"Just relax and enjoy it."

I do okay for awhile... then really bad calls are made, or the officials don't even know the basic rules of the game... my blood pressure rises... Frustration mounts... "Berserkness" sets in!

Is this wrong?

Yes, and no.

It's not wrong to desire fairness. It's not wrong to want people to play by the rules of the game. It's not wrong to want the officials to know the rules and administer them fairly. Those are essential and important attitudes. But, to lose all sense of decorum, to attack volunteer officials verbally or physically, and to embarrass the children by our behavior is clearly out of place, improper, and, may I say it frankly, it's ungodly.

The reason this behavior is so wrong is not just because it sets a bad example. You see, it is nearly always based on our personally biased position as a parent, and it is directed in most instances against someone doing his or her best as a volunteer.

Holy anger is not only tolerable, but sometimes the only proper response to things that are unfair, unwholesome, and ungodly.

No, what makes this behavior so wrong is that it is out of place in the scheme of life. Such indignation is not only laudable, it's needed, just not over little kids sporting events. There are so many other injustices in our world that should evoke a holy "berserkness." Let's think of a few that ought to get us holy hopping mad!
Ethnic cleansing
Corrupt political officials
Institutional and personal prejudice
Violent crime
Discrimination
Those who prey on our old, infirm, or handicapped
Church leaders who morally or ethically abuse those they lead
Family violence
Marital unfaithfulness
Sexual abuse and sexual crimes

And the list could go on and on and on. (I would encourage you to read through the Old Testament prophets and they'll give you a lot longer list!)

Jesus' cleansing of the Temple is our reminder that a holy anger is not only tolerable, but sometimes the only proper response to things that are unfair, unwholesome, and ungodly. Jesus' fury with religious leaders who put their traditions above the needs of someone broken by life reminds us that we need to get upset about similar things. Jesus' indignation about things demonically touched and controlled reminds us of his mission to break Satan's strangle hold on our world and give us liberation.

So, the next time we find ourselves growing incensed at bad calls at kid games, let's take a moment and count to ten. But, let's not leave it there. Let's write ourselves a note of reminder to go vent our anger on something worthy righteous indignation and holy "berserkness."

Let'use our pent up frustration and anger to move us to be redemptive, not just embarrassing to ourselves and our kids. Let's pick a problem or an issue, do some research, and involve our children as we try to make an impact in areas where unfair is more than just a difference over a judgment call in Little League, it is a matter of righteousness and ungodliness.