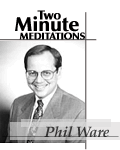 To Do
- Email to a Friend
- Discuss
- Printer Version

God fills our lives with his unexpected touches of grace. These moments of grace often go by unnoticed, because we often are looking for what I call "The Big Woo" — that big supernatural spiritual event that rocks the foundations of our houses,thrills our soul beyond description, and clearly establishes that God is at work in our lives. Unfortunately, when we're always looking for "The Big Woo," we often miss God's flood of tender graces.

Recently, a dear brother in Christ explained how his mother had sought to tenderly warn him that she wasn't going to be coming home from the hospital and tried to reassure him it was okay. "I heard the mourning dove!" she said.

For a woman of faith who had grown up in Arkansas, who had heard the mourning dove each morning at breakfast and as she walked along the road, this was a comforting sign that she was going home. No more dialysis, no more blood work, no more trips to the hospital, no more difficult health days. She had heard the mourning dove! She was going home! Sure, she had regrets about leaving her beloved children and grandchildren, but she had done her best to share her faith with them. They knew she loved them. She knew they loved her. She had heard the mourning dove, it was time for her to go home.

It was time for her to go home.

God gave this sweet lady a farewell episode — a wonderful day to be with her family and say goodbye. The next day she went home. Their hearts are broken and overjoyed. Why? Because they love her and will miss her terribly. Because they know that she was a lady of faith and that her future rests secure in the hands of Jesus who had saved her. However, in the middle of this grief-stained joy there is one special touch of grace each will remember until that Day when they see each other again; she heard the mourning dove. It was okay for her to go home.

I want to encourage you to listen and look around in your life. If you do, I know you will see and hear God's tender touches of grace — those tender moments when he steps in and blesses our lives in ways too precious and too unpretentious to be readily noticed. They are there, however, for us to be blessed and to bless others. Most of the time, we can more easily recognize these touches by looking over our shoulder at the past. But they are here with us right now. Let's just be more aware, and more ready, to receive this grace today. When we do, we'll find that what on earth may look like a mourning dove, on the gracious side of heaven is really our morning dove, as God awakens us to his New Day!
[God's People Say:] Because of the LORD's great love we are not consumed, for his compassions never fail. They are new every morning; great is your faithfulness. Lamentations 3:22-23
[The LORD God Says:] I will turn their mourning into gladness; I will give them comfort and joy instead of sorrow. Jeremiah 31:13