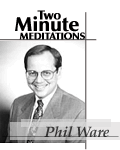 To Do
- Email to a Friend
- Discuss
- Printer Version

What do you do when you're doing nothing? When you are just trying to relax and not exert any mental, emotional, or physical effort, what do you?

Our first response is, "I'm always doing something! What do you think, that I'm lazy?"

You see, we are in a busy-ness crazed culture. The first thing we expect to hear from someone making an appointment with us is, "I know you're busy, but..." When someone is asked how things are going, they almost have to answer, "Things are going pretty well, but it's been pretty busy?" A manager's main concern with his or her employee is revealed by the question, "Are you staying busy?" Busy is the mandatory badge of today's modern world.

With mobile phones, PDA's, handheld computers, satellite communications, jet travel, e-mail, video-conferencing, and instant messaging, we do live in a busy world.

Yet busy-ness isn't the crucial issue. We can be busy, but unproductive. We can be busy, and not correct our errors and inefficiencies. We can busy, and ruin our health. We can be busy, and lose our family, our friends, or even our faith. We can be busy, and be utter failures.

"Do we rest in a way which honors God, and restores our souls?"

Busy-ness is not the issue. The issue we need to grapple with most, is what we do when we are not busy! What do we do when we're doing nothing? In other words, how do we rest? Or maybe we ought to first ask, "Do we rest in a way which honors God, and restores our souls?"

This is not a theoretical concern for me, and I bet it's not for you. Those of us caught up in cyber-frenzy are often those who most risk breaking our productivity, our health, our influence, ourselves, because of our busy-ness. We don't rest enough. When we do rest, we don't rest properly. Learning from the Sabbath rest God gave Israel, and from Jesus who later put it into perspective as Lord of the Sabbath, we can learn some key principles about a healthy rest in our world of busy-ness. When we rest we...
acknowledge that God built a rhythm of one day of rest for every seven
set aside that rest as a holy time dedicated to honoring God
don't do any work when we take our rest
allow those around us to rest (i.e., we don't exploit others so we can rest)
spend our rest time with others who share our faith
spend our rest time alone with God
use our rest to contemplate and meditate on God's Word
trust that God will provide for us if we rest to honor him
understand that God provided our rest time to bless us
use our period of rest to be a blessing to others
don't approach our day of rest legalistically, or as a way of acquiring our righteousness, but as a blessing from God himself
So rather than just trying to squeeze out a little time for rest, let's turn off the sirens of our busy world, and truly rest. It is one of God's ways of giving us a blessing, deepening our faith, nurturing our relationships, and restoring your soul.
So let me ask you one more time: "What do you do when you're doing nothing?"
I hope your answer is one important word, "Rest!"