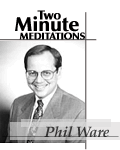 To Do
- Email to a Friend
- Discuss
- Printer Version

"You've got to learn to stand on your own two feet!"

"He pulled himself up by his own bootstraps!"

"A man's got to take care of himself."

"You can be whatever you dream and work at hard enough."

We shout it out for the first time when we're in the "terrible twos" — "NO! By myself!" From that moment on, we face the battle of self-reliance and responsibility. There is a deeply entrenched vein of independence in the human psyche. God can use that streak of independence to help make us responsible people who learn to be interdependent. Satan can take that streak and turn it into a way to isolate us from the help of others and of God. Yes, we must take responsibility for our behaviors and their consequences. At the same time, God never intended us to live isolated lives caught in the shearing forces of loneliness and insufficiency.
Carry each other's burdens, and in this way you will fulfill the law of Christ. If anyone thinks he is something when he is nothing, he deceives himself. Galatians 6:2-3
While those outside of Christ often try to disassociate themselves from any responsibility for their behaviors, I'm amazed at the large number of conscientious Christians who live out their discipleship as pragmatic atheists — they try to do it all by themselves. There is no sense of grace. There is no reliance on the power of God's Spirit. There is no reliance on the support of Christian friends. A suffocating legalism or a withering sense of self-reliance forces them to try to do it all themselves. When weakness or sin comes, failure is devastating.

It's the difference between faith and religious atheism.

Don't get me wrong, when we sin, we should be convicted down to the core of our souls. But there is a difference between conviction and being crushed. It's the difference between Peter's reaction to his denial of Jesus, and Judas' reaction to his betrayal of Jesus. It's the difference between faith and religious atheism.
But when the kindness and love of God our Savior appeared, he saved us, not because of righteous things we had done, but because of his mercy. He saved us through the washing of rebirth and renewal by the Holy Spirit, whom he poured out on us generously through Jesus Christ our Savior, so that, having been justified by his grace, we might become heirs having the hope of eternal life. Titus 3:4-7
What separates Christianity from other religions is grace. It is not a bootstrap religion. It looks human frailty and depravity in the face, acknowledging its pervasive power, and then provides a way of escape through grace, forgiveness, and the power of the Holy Spirit to strengthen and transform.
I hope you take seriously God's call to be his holy child. At the same time, I hope you will join me in acknowledging that you cannot be that holy child by your own power and strength. God sent Jesus to be your atoning sacrifice that makes you holy and pure. Jesus poured out his Spirit on you when you became a Christian to empower and transform you to be like Christ. The Spirit brings you into Christ's Body, the Church, so you won't have to try to make it on your own in a world that is so antagonistic to faith. So please, if you believe in God, trust in Christ's sacrifice and resurrection, and acknowledge the Spirit's power, don't be a religious atheist and try to live life all on your own.
Now to him who is able to do immeasurably more than all we ask or imagine, according to his power that is at work within us, to him be glory in the church and in Christ Jesus throughout all generations, for ever and ever! Amen. Ephesians 3:20-21