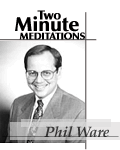 To Do
- Email to a Friend
- Discuss
- Printer Version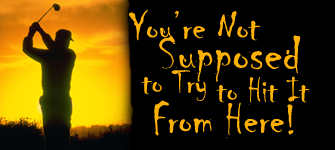 Tuesdays are stay-at-home, study, and do Heartlight days. Like for most people, they come right after Monday — my longest and hardest day of the week. This Tuesday, Donna was home — sick, exhausted and down with some bug from a weekend that was way too busy on the end of a very stressful week. Instead of staying in my office at home, however, I ran to town, did "essential" errands, and completed left over work from the night before. When I came back home around noon, the pile of stuff I was supposed to do was overwhelming. I had been up since 5:00 A.M. and hadn't made a dent. I decided that I needed one of those 20 minute power naps.

In my nap, I had a dream. I was playing golf with my dad, whose life on earth ended over nineteen years ago. He looked in my dream like he did about ten years before his death — he looked younger than I! I often tee off from the very back tees; not because I'm good, but because "I want to play the whole course." My playing partner accompanied me to the back tees. Dad teed off several hundred yards in front of us. His swing was long, hard, looping — just as I had remembered.

I teed up my ball, and started looking for a place to hit. In front of me was a beautiful river running off into the horizon, two boats sunk beneath the surface of its clear green waters. To my right, the direction the hole obviously ran, was a forest full of tall, impenetrable trees. The fairway was somewhere beyond them, but I knew I couldn't hit it far enough or high enough to get there. I watched as my dad's golf cart moved out of sight, down the fairway only he could see. My playing companion looked at me and said, "I don't think you're supposed to try to hit it from here."

I take on too much work, but all of it is "good and necessary."

Hmmm! I'm not usually good at remembering dreams, but it wasn't hard to get the message: "I don't think you're supposed to try to hit it from here."

I often make things harder than they have to be. I take on too much work, but all of it is "good and necessary." I get involved in way too many things, but so many of them are "important." I was taught "to do my best," so I spend more time on most stuff than I should. Worst of all, I actually enjoy the pressure of getting a lot of things done on a deadline... most of the time. But, in rare moments of clarity, when I'm overwhelmed and just a shade short of absolute panic, I really need to hear, "I don't think you're supposed to try to hit from here."

Our modern world is a rush. Our homesick for heaven hearts often feel unimportant. Our culture convinces us that rest and boredom are obscenities. So we buy ourselves the latest badge of significance, busy-ness. Then, in the stillness of an unexpected rest, a voice gently reminds us, "I don't think you're supposed to try to hit it from here!"

Life is hard enough with its challenges. With Satan throwing in his darts and zingers, we don't need to make it harder because we feel inadequate, not accomplished enough, or left behind on the status train. I don't know about you, but I'm going to do some prayerful looking at my life, my time, and my overload. I'm going to ask God to show me what I should do, and what I shouldn't. I don't want to miss my dreams and the important people in my life simply because I was making life harder and busier than God meant for it to be. I'm going to heed the voice, "I don't think you're supposed to hit from here." I'm going to tee off down there where my dad did. What about you?