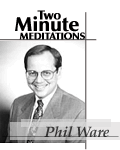 To Do
- Email to a Friend
- Discuss
- Printer Version

My good buddy and partner, Paul Lee, is 8 years old this week. He has graduated from college, married, been blessed with two children, and proved his expertise in web ministry. All in 8 short years...

Well, not exactly 8 years, it's really 8 leap years. Happy Birthday Paul, we love you for all your quirky, wonderful, godly, talented, baseball-loving uniqueness that God made in you. And like you, we're going to try to make this a special year by taking a leap, stretching our faith muscles, and doing something our reserved, fearful, and short-sighted faith will find exhiliratingly terrifying.

Most of us need a nudge, a reason, a motivating push to do something different. Most of us don't like change, at least not change in important things. So we become settled and play things close to the vest. We don't take chances. We get where we don't even do anything exciting. We fall into our rut without realizing the old cliche is true: "A rut is just a grave with the ends kicked out of it."

He will show you what your leap is.

I can't answer what that leap of faith will be for you. That's for you to figure out with the help of the Father. But, I'm absolutely convinced that if you will put your nose in the Good Book, your heart before the Father in prayer, and your will bowed before the Throne of God, he will show you what your leap is.

You're going to have to listen to hear his answer! That means listening in church when the Word is preached, when your brothers and sisters sing and speak to you, and when ministries offer you a chance to serve. But, if you listen, you'll find out where to leap!

One of the reasons I love the Bible is because it's the Book about leaping. If it were titled in today's jargon it would be called The Dummies Guide to Leaping or Leaping in a Nutshell. Think of all the leapers you meet in the Bible... Abram, Esther, Joseph (the one in Egypt, married to Mary, or from Arimathea, just take your pick), Mary Magdalene, Paul, Timothy, or a host of others who heard the call of God and made huge changes in their lives, at all different ages in their journey.

So, let this be leap year for you, too! Quit putting off fulfilling that commitment to the Lord, that mission trip you planned to take, or that spiritual discipline you've been putting off. Don't let Paul be the only one to have something to celebrate this leap year. Take a leap!