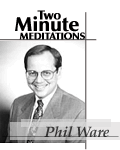 To Do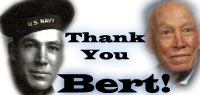 I was a scrawny fourth grader when I moved to Abilene from what was then the small town of Conroe. Conroe was at the southwestern edge of the Big Thicket in East Texas, north of Houston about 45 miles. We had to cut down 21 pine trees to pour the slab for our house. When we moved to the country in Abilene, barbwire and tumbleweeds were the only things between the North Pole and us. I left behind my school, my friends, my church, and my woods! Thank God he had Bert waiting.

My folks decided we would go to Highland Church of Christ. I found myself in Bible class with a bunch of people I didn't know, in a building as big as a shopping center, with college students everywhere, and old folks who didn't know who I was. I would have been intimidated and lost if it hadn't been for Bert.

I wasn't sure who Bert was, except that he had callused hands, a big smile, and time to say "Hi there!" and shake a fourth grader's hand. He had access to all the thermostats, got to turn all the dials at the back of the huge auditorium, he smiled and greeted everyone he saw, and everybody seemed to know and like him. Bert was my friend. He was the one thing I could count on those first few months I was in this new place.

He was the one thing I could count on...

After living in Abilene four plus years, we moved again. But during those years, I always found a way to take the long route through the building so I could shake Bert's hand. He was my constant! When I returned to Abilene to go to college, Bert was still there. I went up to shake his hand and he greeted me. "Hi Phil!"

I didn't remember him ever knowing my name when I was little. How in the world did he know it now over four years after I had moved away? For the four years I went to college, he would greet me by name every time I came to church at Highland. Several years after graduating, I came to preach at the congregation where Bert's son and his family worship and serve the Lord. I got to see Bert regularly when he came to town. When I went back to Abilene to see my folks, Bert would always come up to greet me. "Hi Phil!" A handshake wasn't "good enough," we would hug.

In the eyes of the world, Bert Rose probably didn't look so important. He didn't have an important position of status nor did he have a big, high paying job. But Bert was one of God's greatest. You see Kingdom values are different. In the Kingdom, the greatest is a servant. The greatest are not too important to speak and make a scrawny kid feel loved and important. The greatest takes time to learn names so a person has value. The greatest reach out to college students and make them feel at home. The greatest seek to honor and maintain friendships over the years. As the writer of Hebrews says of the great unmentioned in Hebrews 11, "The world was not worthy of them."

A couple of weeks ago, Bert, undoubtedly one of God's greatest, got to go home to the Father. All this 45 year old (who is still that scrawny fourth grader inside) knows to do is simply say: "Thanks Bert, you're one of my greatest! You will be missed on this side of the great divide, but I look forward to having you welcome me to the Big House when I make it home!"