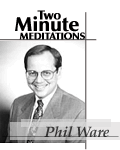 To Do

Hope springs eternal. Super Bowl XXXIV is barely decided and the chase has already begun for next year. Yes, I know some folks are just glad to get the football season behind us. There are others, however, who are already anticipating next year and trying to determine how their favorite team can end up with the Lombardi Trophy.

Will free agency and injuries destroy the Rams and Titans as it did the major Super Bowl contenders from the year before? Who will make the best off-season moves? Did the coaching changes make a big difference in our favorite teams? The debate will rage all the way until the last Sunday of January, 2001.

That's why I love the quote of former Dallas Cowboy Super Bowl MVP Duane Thomas. As people gushed about what a great game he played and how he was on such a great team, he nonchalantly said that if the Super Bowl victory is such an ultimate victory, "Why are they playing it again next year?" Cowboy fans were furious. The NFL powerbrokers were embarrassed. As big a football fan as I am, I had to admit that the truth had been spoken! It was just a game. Granted, it was a big game. Lots of marketing and hoopla go along with the game. But it is still a game that is played every year.

We are guaranteed a victory that is permanent!

Aren't you glad that our victory as Christians is built on something more substantial! Isn't it wonderful that we are guaranteed a victory that is permanent! Remember the promises of Scripture:
When the perishable has been clothed with the imperishable, and the mortal with immortality, then the saying that is written will come true: "Death has been swallowed up in victory." "Where, O death, is your victory? Where, O death, is your sting?" ... But thanks be to God! He gives us the victory through our Lord Jesus Christ. (1 Corinthians 15:54-57)

I have fought the good fight, I have finished the race, I have kept the faith. Now there is in store for me the (victor's) crown of righteousness, which the Lord, the righteous Judge, will award to me on that day — and not only to me, but also to all who have longed for his appearing. (2 Timothy 4:7-8)

No, in all these things we are more than conquerors through him who loved us. For I am convinced that neither death nor life, neither angels nor demons, neither the present nor the future, nor any powers, neither height nor depth, nor anything else in all creation, will be able to separate us from the love of God that is in Christ Jesus our Lord. (Romans 8:37-39)
Today, bookmakers from London to Las Vegas will start giving the odds of the different NFL teams and their chance to win the Super Bowl. But instead of gambling away your life and energies on victories that won't last, why not invest your life, your hope, and your future in the only One who has already secured for us the permanent victory?