Who Will Carry His Cross? - Matthew 27:32-34
The soldiers were going out of the city with Jesus. The soldiers forced another man there to carry the cross for Jesus. This man's name was Simon from Cyrene. They came to the place called Golgotha. (Golgotha means "The Place of the Skull.") At Golgotha, the soldiers gave Jesus wine to drink. This wine was mixed with gall. Jesus tasted the wine but refused to drink it. (ERV)
Full Text
Key Thought
Forced to carry his cross! Simon was forced to carry Jesus' cross. But what about us? Are we forced to carry Jesus' cross? Is it something we have to do? Didn't Jesus say, "Unless you take up your cross and follow me you cannot be my disciple"?
I don't know about you, but I don't feel forced to carry Jesus' cross. It is an honor. Yes, sometimes it is difficult to be his disciple. Yes, sometimes it is hard to carry his cross when those around me don't believe and belittle my faith. Yes, sometimes it would be easier if I didn't hear his call in my heart. But when I think of all that he went through for me, when I think that it was on the cross that he suffered for my sins, when I realize that he felt the blows from the rod and the sting of the thorns and the indignity of his mocking so that my sin and my shame could be banished, then it is an honor to be identified with his cross. So whether it's dying with Christ in baptism, or dying to my flesh each day, or it's putting to death the misdeeds in my body, I gladly take up his cross and follow him.
Today's Prayer
O Father, I feel compelled to carry Jesus' cross, but it is not because someone makes me. Father, for all that you have done, for all that Jesus paid, I thank you. And today, I will pick up the cross and seek in word, thought and deed to honor Jesus as my Lord. In the name of my Savior I offer my thanks and praise. Amen.
Today's Verses in Context

Then Pilate's soldiers brought Jesus into the governor's palace. All the soldiers gathered around Jesus. The soldiers took off Jesus' clothes and put a red robe on him. Then the soldiers used thorny branches to make a crown. They put this crown of thorns on Jesus' head, and they put a stick in his right hand. Then the soldiers bowed before Jesus and teased him. They said, "Hello, king of the Jews!" The soldiers spit on Jesus. Then they took his stick and hit him on the head many times. After they finished teasing Jesus, the soldiers took off the robe and put his own clothes on him again. Then they led Jesus away to be killed on a cross. The soldiers were going out of the city with Jesus. The soldiers forced another man there to carry the cross for Jesus. This man's name was Simon from Cyrene. They came to the place called Golgotha. (Golgotha means "The Place of the Skull.") At Golgotha, the soldiers gave Jesus wine to drink. This wine was mixed with gall. Jesus tasted the wine but refused to drink it. The soldiers nailed Jesus to a cross. Then the soldiers gambled with dice to decide who would get Jesus' clothes. The soldiers sat there and continued watching Jesus. The soldiers put a sign above Jesus' head with the charge against him written on it. The sign said: "THIS IS JESUS, THE KING OF THE JEWS." Two robbers were nailed to crosses beside Jesus. One robber was put beside Jesus on the right and the other was put on the left. People walked by and said bad things to Jesus. People shook their heads and said, "You said you could destroy the temple and build it again in three days. So save yourself! Come down from that cross, if you are really the Son of God!" The leading priests, the teachers of the law, and the older Jewish leaders were also there. These men teased Jesus the same as the other people. They said, "He saved other people. But he can't save himself! People say he is the king of Israel (the Jews). If he is the king, then he should come down now from thecross. Then we will believe in him. He trusted God. So let God save him now, if God really wants him. He himself said, 'I am the Son of God.'" And in the same way, the robbers that were being killed on crosses beside Jesus also said bad things to him.

— Matthew 27:27-44 (ERV)
---
God With Us:
365 Devotionals from the Gospel of Matthew
By Phil Ware

Join the author of the Gospel of Matthew in God With Us, a devotional that will immerse you in exploring the glories of Immanuel. The book uses one short passage each day and follows the Gospel text from beginning to end. Each day's passage is followed by a brief Reflection to open up the day's Scripture and a Prayer to show how the verses challenge you to live for Jesus.
---
Comments on "Who Will Carry His Cross?":

Easy-to-Read Version copyright © 2001 by World Bible Translation Center. All rights reserved.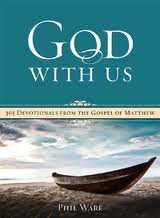 Get Phil's book God With Us featuring 365 Devotionals from the Gospel of Matthew.
Jesus warned them not to tell anyone. Then Jesus said, "The Son of Man must suffer many things. He will be rejected by the older Jewish leaders, the leading priests, and teachers of the law. The Son of Man will be killed. But after three days he will be raised from death." Jesus continued to say to all of them, "If any person wants to follow me, he must say 'No' to the things he wants. That person must accept the cross (suffering) that is given to him every day, and he must follow me. The person that wants to save his life will lose it. And every person that gives his life for me will save it. It is worth nothing for a person to have the whole world, if he himself is destroyed or lost. If any person is ashamed of me and my teaching, then I will be ashamed of that person. I will be ashamed of that person at the time I come with my glory and with the glory of the Father and the holy angels. I tell you the truth. Some of you people standing here will see the kingdom of God before you die." —Luke 9:21-27 (ERV)
They called the apostles in again. They beat the apostles and told them not to talk to people about Jesus again. Then they let the apostles go free. The apostles left the meeting. The apostles were happy because they were given the honor of suffering dishonor (shame) for the name {of Jesus}. —Acts 5:40-41 (ERV)