Thanking Great Faith - Matthew 15:25-28
Then the woman came to Jesus again. She bowed before Jesus and said, "Lord, help me!" Jesus answered, "It is not right to take the children's bread and give it to the dogs." The woman said, "Yes, Lord, but even the dogs eat the pieces of food that fall from their master's table." Then Jesus answered, "Woman, you have great faith! I will do the thing you wanted me to do." And at that time the woman's daughter was healed. (ERV)
Full Text
Key Thought
In a world where everyone feels as if the world owes them something—a living, a break, a decent wage, etc.—here is a woman who understood grace because she truly believed in Jesus. God had come before her. Immanuel, God with us, stood before her and her daughter needed his care. She would do anything and endure anything to receive his ministry. Even though Jesus' ministry would focus on Jewish people, here is a woman who stands in sharp contrast with the religious leaders who will not believe. Her faith transcends race and plans. Jesus heals her daughter just as she believed he would. What especially touches me is that Jesus consistently affirmed those who had faith by letting them know he noticed and appreciated their faith. There are at least two things that I can do: not let race or culture stand in the way of salvation for all people and let folks know how I appreciate their faith.
Today's Prayer
Dear Lord, God Almighty, open my heart to other people. Give me a deeper appreciation of their faith and what they had to overcome to believe. Give me a generous heart to share with others your grace and my admiration for the good things in their life. In Jesus' name I pray. Amen.
Today's Verses in Context

Jesus left that place and went to the area of Tyre and Sidon. A Canaanite woman from that area came to Jesus. The woman shouted, "Lord, Son of David, please help me! My daughter has a demon inside her, and she is suffering very much." But Jesus did not answer the woman. So the followers came to Jesus and begged him, "Tell the woman to go away. She is following us and shouting." Jesus said, "God sent me only to the lost people of Israel (the Jews)." Then the woman came to Jesus again. She bowed before Jesus and said, "Lord, help me!" Jesus answered, "It is not right to take the children's bread and give it to the dogs." The woman said, "Yes, Lord, but even the dogs eat the pieces of food that fall from their master's table." Then Jesus answered, "Woman, you have great faith! I will do the thing you wanted me to do." And at that time the woman's daughter was healed. Then Jesus left that place and went to the shore of Lake Galilee. Jesus went up on a hill and sat down. Many, many people came to Jesus. These people brought many other sick people and put the sick people before Jesus. There were people that could not walk, blind people, crippled people, deaf people, and many others. Jesus healed all these people. People were amazed when they saw that people that could not speak were able to speak again. Crippled people were made strong again. People that could not walk were able to walk again. The blind were able to see again. All the people thanked the God of Israel (the Jews) for this. Jesus called his followers to him and said, "I feel sorry for these people. They have been with me three days, and now they have nothing to eat. I don't want to send them away hungry. They might faint while going home." The followers asked Jesus, "Where can we get enough bread to feed all these people? We are far away from any town." Jesus asked, "How many loaves of bread do you have?" The followers answered, "We have seven loaves of bread and a few small fish." Jesus told the people tosit on the ground. Jesus took the seven loaves of bread and the fish. Then Jesus gave thanks to God for the food. Jesus divided the food and gave it to the followers. The followers gave the food to the people. All the people ate and were full. After this, the followers filled seven baskets with the pieces of food that were not eaten. There were about 4,000 men there that ate. There were also women and children that ate. After they ate, Jesus told the people they could go home. Jesus got into the boat and went to the area of Magadan.

— Matthew 15:21-39 (ERV)
---
God With Us:
365 Devotionals from the Gospel of Matthew
By Phil Ware

Join the author of the Gospel of Matthew in God With Us, a devotional that will immerse you in exploring the glories of Immanuel. The book uses one short passage each day and follows the Gospel text from beginning to end. Each day's passage is followed by a brief Reflection to open up the day's Scripture and a Prayer to show how the verses challenge you to live for Jesus.
---
Comments on "Thanking Great Faith":

Easy-to-Read Version copyright © 2001 by World Bible Translation Center. All rights reserved.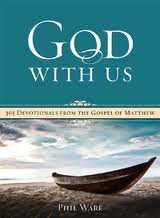 Get Phil's book God With Us featuring 365 Devotionals from the Gospel of Matthew.
Then I looked, and there were many, many people. There were so many people that a person could not count them all. They were from every nation, tribe, race of people, and language of the earth. These people were standing before the throne and before the Lamb (Jesus). They all wore white robes and had palm branches in their hands. They shouted with a loud voice, "Victory belongs to our God, who sits on the throne, and to the Lamb." —Revelation 7:9-10 (ERV)
We always remember you when we pray and we thank God for all of you. When we pray to God our Father we always thank him for the things you have done because of your faith. And we thank him for the work you have done because of your love. And we thank him that you continue to be strong because of your hope in our Lord Jesus Christ. —1 Thessalonians 1:2-3 (ERV)
There was a woman that had been bleeding for twelve years. The woman came behind Jesus and touched the bottom of his coat. The woman was thinking, "If I can touch his coat, then I will be healed." Jesus turned and saw the woman. Jesus said, "Be happy, dear woman. You are made well because you believed." Then the woman was healed. —Matthew 9:20-22 (ERV)