Friday, July 22, 2016
Dear Father, comforter of the bereaved,
On the death of our dear loved ones in Christ, may we comfort one another with thoughts of a glorious reunion.
Help us not grieve as those who have no hope. Since we believe that Jesus died and rose again, even so, through Jesus, you will bring with you at your coming those who have fallen asleep.
We place our trust in you for ourselves, too, for we who are alive, who are left until the coming of the Lord, shall not precede those who have fallen asleep, but will share in their rapturous blessing.
In the name of our conquering and returning Savior. Amen.
Comments on "Coming Reunion":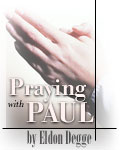 MORE Praying with Paul

Praying With Paul Feed
Enter your email address above to subscribe to the email edition of Praying with Paul. Receive a new prayer inspired by the life-transforming writings of the apostle Paul each morning.
Heartlight wants to thank Eldon Degge and Meridian Publishing for permission to make this available on our website.
Praying with Paul is available in a very attractive book that may be ordered directly from Eldon Degge.