Monday, June 20, 2016
Dear Father,
Put your hand over my mouth to keep me from boasting about myself. Even if I were to have visions and revelations about you or to be caught up to Paradise and hear things too sacred to be told, let me boast only of my weaknesses.
If you limit me, inflict pain on me, cause me to struggle and cry out for relief, let me come back to trusting you.
Your grace is sufficient for me. Your power is made perfect in weakness.
In the name of him who is my strength, Jesus Christ. Amen.
Comments on "My Perfect Weakness":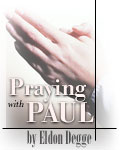 MORE Praying with Paul

Praying With Paul Feed
Enter your email address above to subscribe to the email edition of Praying with Paul. Receive a new prayer inspired by the life-transforming writings of the apostle Paul each morning.
Heartlight wants to thank Eldon Degge and Meridian Publishing for permission to make this available on our website.
Praying with Paul is available in a very attractive book that may be ordered directly from Eldon Degge.