---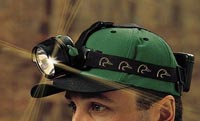 Is Your Lamp Attached?
by Bruce Wadd
---
Your word is a lamp for my feet and a light for my path. (Psalm 119:105)
When was the last time you were in a cave?

Close your eyes for a moment and revisit the quietness, the peacefulness and the intense darkness — so thick that you can't see your hand in front of your face.

On guided tours through caves, there are usually overhead lights that are turned off and on during your visit. The shadows cast create fascinating shapes in front of your eyes, sometimes making it difficult to see every step of the pathway.

Reading the Bible daily is like putting a lamp on your helmet...

The alternative is to use a miner's helmet lamp attached to your head. The shadows are still there, but your immediate pathway is clearly highlighted.

In your walk through life today, do you have your miners lamp attached?

Reading the Bible daily is like putting a lamp on your helmet, showing you the dangers and safety of the next step. Letting that Bible reading focus on Jesus only brings in more light. So is your lamp attached?
"I am the Light of the world. So if you follow me, you won't be stumbling through the darkness, for living light will flood your path." (John 8:12)
© Copyright 2002, Bruce Wadd, used by permission.

Title: "Is Your Lamp Attached?"
Author: Bruce Wadd
Publication Date: November 1, 2002



Heartlight only exists because of
your support!
Click above to visit a
sponsor
, or
donate
to join us in our ministry.
Get Heartlight articles and devotionals by email FREE every day!
Daily Heartlight
Today's Verse
What Jesus Did!
Quotemeal

More Information