---

The Gift of Christmas: The Journey
by Phil Ware
---



Okay, I know it's time to quit talking about Christmas. You're absolutely right. You're probably even taking down your decorations and storing them away — if you haven't done so already. But there is one perspective on Christmas that I don't want us to lose as we start the New Year. It's one that so many people have problems accepting.

When the cold doubts of spiritual winter come howling at our door, so many Christians struggle with how God could love them in spite of their flaws and failures. When the hard assault of Satan's horde brings disaster and trouble into our lives, many of us wonder if God has abandoned us. In those moments of hard and bitter doubt, we need to remember the story that's told around Christmas — that God loved us so much he sent his Son as a vulnerable baby to begin a life that would end at the Cross.

He came to let us know that he would walk with us no matter how hard our road or how dark our night.

God loved us enough to come all the way here; not just to earth, but to a human body, to a life like our own with all its challenges, and to a death before a howling mob that hated him. He came to let us know that there was no part of life he wouldn't face. He came to let us know that he would walk with us no matter how hard our road or how dark our night.

In the middle of post-Christmas depression, of bills coming in from our gift buying frenzy, and of the sniffles we picked up from time with our coughing and sneezing family, we need to remember the greatest truth that almost always gets buried at Christmas. It's the simple message from God that we hear if we listen carefully: "If I've come this far to love and redeem you, why do you ever think I would ever let you go?"

The feelings and fun of Christmas pass in a hurry and are gone. Before long, all that's left are the bills, the pictures, and the memories. But if we will nurture this crucial thought in our heart, we will find this is the one Christmas gift is here to stay and it's a powerful promise on which to begin the New Year:
And I am convinced that nothing can ever separate us from his love. Death can't, and life can't. The angels can't, and the demons can't. Our fears for today, our worries about tomorrow, and even the powers of hell can't keep God's love away. Whether we are high above the sky or in the deepest ocean, nothing in all creation will ever be able to separate us from the love of God that is revealed in Christ Jesus our Lord. (Romans 8:38-39 NLT)
Title: "The Gift of Christmas: The Journey"
Author: Phil Ware
Publication Date: December 31, 2001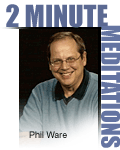 Many more articles
like this are in the
ARTICLE ARCHIVE


Print this Article



Send it to a Friend



Discuss


Get Heartlight articles and devotionals by email FREE every day!
Daily Heartlight
Today's Verse
What Jesus Did!
Quotemeal

More Information
About the Author
Phil Ware is minister of the Word at Southern Hills Church of Christ in Abilene, Texas. For the past 10+ years, he has also been co-editor of HEARTLIGHT Magazine. For more details, click here.