---

911
by Phil Ware
---
Lots of folks noticed. No one is sure if there is an intentional connection. The poignancy of it is inescapable.
On Friday, November 22, 1963, I was on the northeast side of Sam Houston elementary school in Conroe, Texas, when I heard that President John F. Kennedy had been shot. I will never forget. I was ashamed it happened in our state. I was horrified that someone would do this to our President. I was shocked and shaken. I was not quite nine years old.
On Tuesday, September 11, 2001, I was waiting in a parking lot to be picked up for an out of town trip when I heard the first bulletin about a plane hitting the World Trade Center. I heard the shock in the announcer's voice as the second hate-driven plane plowed into its target. I will never forget. I was angered that this could happen in our country. I was shocked and shaken and saddened. I am long past nine years old.
As emails came in to us from all over the world, one caught my attention. It wasn't profound or articulate, just observant, and one of the very first I received. It simply asked the question - Notice anything significant about the date? (09/11/01 --> 9/11 --> 911 for our non-USA friends, 911 is the number we dial for emergencies)
We do face an emergency, a disaster, of cataclysmic proportions. Where do we turn to heal the wounds that medicine can't cure and no doctor can mend? We turn to our spiritual version of 911, Jesus.
A lot of people... followed him. Jesus welcomed them. He spoke to them about God's kingdom and healed everyone who was sick. Luke 9:11
We find healing in following him and making his Kingdom our home. He welcomes us to his family. He mends what is bent, broken, maimed and crushed. He restores dry souls and revives lifeless hearts.

This is no Polly-annish promise built on religious platitudes and sentimental ether. God came and chose to be one of us in Jesus. He suffered indignities, embarrassment, humiliation, torture, abandonment, betrayal, brutality, mocking, and death. He did it so we could be certain that he knows, not because of his omniscence as diety, but because of his physical suffering.

He restores dry souls and revives lifeless hearts.

The trail we walk may be small and its travellers may be few, but there is One who has already blazed the trail for us. Let's follow him! Let's hear his, "Welcome!" Let's live for his Kingdom and his righteousness. When we do, even in our moments of greatest despair and loss, we can find comfort from our older Brother who has been there, so we wouldn't have to face our trial alone. (see Hebrews 2:14-18; 4:14-16)

Yes, we follow Jesus so that when we need to dail 911, it is to a trusted friend we know and trust.

We also have another 911 we can use for our worst emergencies. This one is found in the Old Testament.
He who dwells in the shelter of the Most High will rest in the shadow of the Almighty. (Psalm 91:1)
Using the image of a great mother eagle who protects her eaglets, God is described as our shelter, our protection. We can trust that no matter what the physical outcome of our current ordeal, he can handle the rest. We have a God who is not far from us. He has us dwell in the shadow of his holy and sustaining presence. The Apostle Paul reminds us that when we make our life in God, we can be sure of deliverance and ultimate victory. (Philippians 1:19-2:11)
Whether the date was chosen because of its 9-1-1 significance or not, we're all going to have to find some 911 help for this horror. None of us is going to make on his or her own. We're going to have to call and ask for help and grace to sustain us in our time of need.
Title: "911"
Author: Phil Ware
Publication Date: September 14, 2001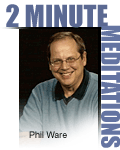 Many more articles
like this are in the
ARTICLE ARCHIVE


Print this Article



Send it to a Friend



Discuss


Get Heartlight articles and devotionals by email FREE every day!
Daily Heartlight
Today's Verse
What Jesus Did!
Quotemeal

More Information
About the Author
Phil Ware is minister of the Word at Southern Hills Church of Christ in Abilene, Texas. For the past 10+ years, he has also been co-editor of HEARTLIGHT Magazine. For more details, click here.