---

The Greatest Miracle
by Paul Faulkner
---



In a Bible class one day, a teacher asked, "What was the greatest miracle in the Bible?" A weary young father of several pre-schoolers said, "It was when Joshua told the sun to stand still, and his sun obeyed him!"

The greatest miracle of all is...

The Bible is full of miracles — the rescue of Israel from the Egyptians, the miracle of Jesus walking on the water, the countless healings by Jesus and his disciples, the feeding of the multitudes from a few loaves and fish, the coming of the Holy Spirit with tongues of fire on the day of Pentecost, and yes, the raising of Lazarus from the dead.

But the greatest miracle of all is still going on, all around us every day. And that's the way that Jesus can turn a sin-filled heart into a peace-filled soul. It happens to those who believe and obey, every day!
Title: "The Greatest Miracle"
Author: Paul Faulkner
Publication Date: April 13, 2001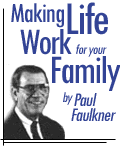 More articles like
this are in the
ARTICLE ARCHIVE


Print this Article



Send it to a Friend



Discuss


Get Heartlight articles and devotionals by email FREE every day!
Daily Heartlight
Today's Verse
What Jesus Did!
Quotemeal

More Information
About the Author

Dr. Paul Faulkner is a noted author and expert family therapist. For more details, click here.